PROZOR Audio Balun - Extend Your Analog Audio with Ease and Clarity!
Are you tired of dealing with messy cables and limitations when it comes to extending your analog audio signals? Look no further! Introducing the PROZOR Audio Balun, the ultimate solution for extending stereo RCA to stereo audio signals. Say goodbye to cable clutter and hello to seamless audio extension with this innovative and reliable device. Whether you're a music enthusiast, a home theater aficionado, or a professional audio technician, the PROZOR Audio Balun is here to enhance your audio experience with ease and clarity.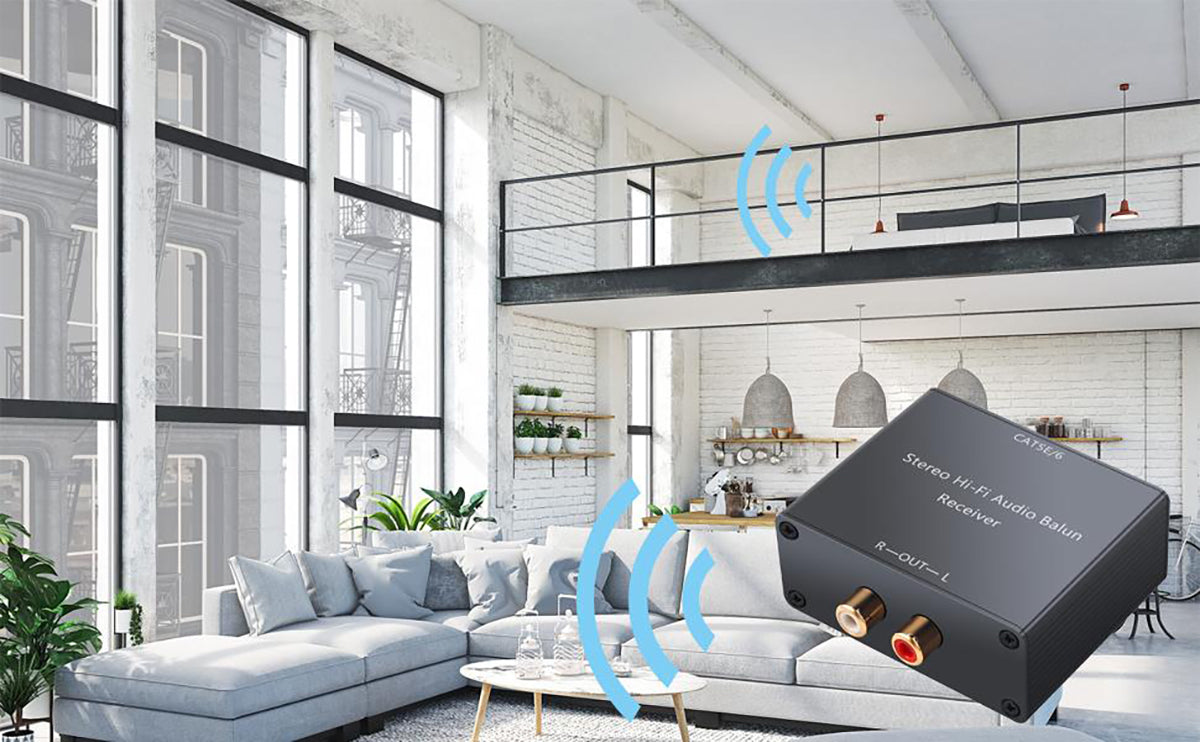 Seamless Audio Extension:
The PROZOR Audio Balun is designed to extend your analog stereo audio signals without sacrificing sound quality. With its advanced transmission technology, this audio extender can transmit stereo audio signals over long distances, allowing you to place your audio source and speakers wherever you desire. Enjoy the freedom of flexible audio placement without compromising on audio fidelity.
Crystal Clear Sound:
Don't compromise on audio quality when extending your analog audio signals. The PROZOR Audio Balun ensures crystal clear sound reproduction, delivering the same high-quality audio as if the source and speakers were directly connected. Immerse yourself in the rich tones and nuances of your favorite music or movies, and experience audio clarity like never before.
Easy Installation and Operation:
Setting up the PROZOR Audio Balun is a breeze. Simply connect the RCA cables from your audio source to the transmitter unit, and connect the RCA cables from the receiver unit to your speakers or audio output device. The plug-and-play design ensures a hassle-free installation process, allowing you to enjoy extended audio in no time. Experience the convenience of uninterrupted audio without the hassle of complex installations.
Versatile Compatibility:
The PROZOR Audio Balun is compatible with a wide range of audio devices, including CD players, televisions, home theater systems, amplifiers, and more. Its universal RCA connectors ensure seamless compatibility with your existing audio equipment. Whether you're extending audio for your personal entertainment system or a professional audio setup, this audio balun has got you covered.
Durable and Reliable:
Built with durability in mind, the PROZOR Audio Balun is constructed with high-quality materials to ensure long-lasting performance. Its compact and sturdy design makes it suitable for both indoor and outdoor use, providing you with a reliable audio extension solution wherever you go. Rest assured, your audio signals will be transmitted with stability and clarity.
Conclusion:
Say goodbye to cable limitations and audio signal degradation with the PROZOR Audio Balun. Extend your analog stereo audio signals with ease, clarity, and convenience. With its seamless audio extension, crystal-clear sound, easy installation, versatile compatibility, and durable construction, this audio balun is a must-have for any audio enthusiast or professional.
Upgrade your audio experience today and enjoy the freedom of extended analog audio signals with the PROZOR Audio Balun!